Originally posted on The Mommy Dialogues
Alyssa's Top Picks: Extended Rearfacing Convertible Seats
There are many great convertible seats out there, but only a few that I can really say are for "extended rearfacing"….since I am so passionate about kids rearfacing until at least 4 years old, I will only be going over my favorite of the extended rearfacing seats.
Extended Rearfacing Convertible Seats: 
#1 Chicco NextFit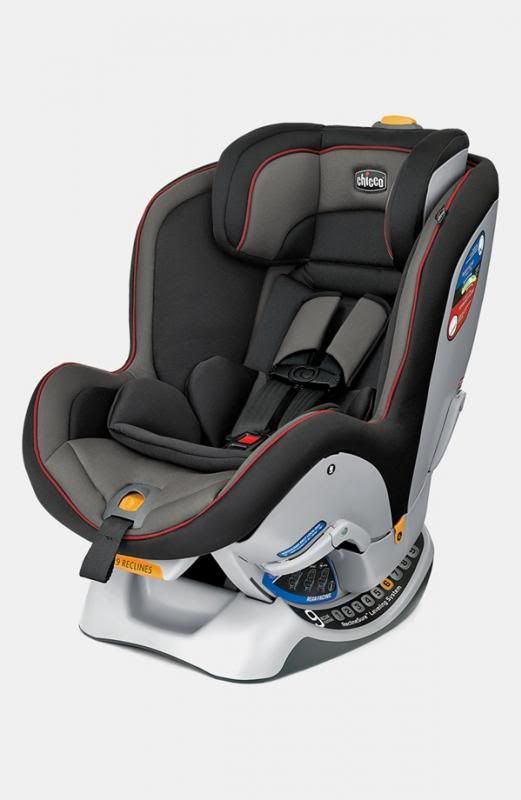 Pros:
-Idiot proof latch install.  Seriously, if you cannot install this seat with latch, I have no idea how you feed yourself.  It's THAT easy.  It is literally a 1 finger install and it is rock solid.  No more sitting in the seat to get it tight enough…no more sweating and swearing to get a seat installed.  Not with the NextFit.
-Super neat harness design that widens as it goes up, to accommodate older children's wider shoulders
-2 position chest clip…1 position for forward facing, and 1 for rearfacing
-9 recline positions, which ensure a level install in every.single.car with no need for pool noodles or rolled up towels
-50 inch rearfacing height limit…that's HUGE and it puts it in the #2 position for tallest rearfacing height limit
-WILL FIT PREEMIES…this seat is the perfect seat for those parents who want to forgo infant seats in lieu of a convertible
-I have yet to find a car that the NextFit won't fit into…unless you count the 3rd row of my friends Kia Sorento…which did not accommodate the NextFit rearfacing (neither does it comfortably accommodate a full grown adult either)
-level bubble indicator on either side of the seat, so you get a proper angle every time
Cons:
-Only rearfaces to 40 lbs
-Heavy…because this seat is reinforced with steal it is a heavy seat and is also an awkward shape if you're wanting to carry it.  This would not be a seat I would travel with if your going to be walking through the airport with it
-the harness is not easily replaceable.  For me I don't see this as an issue (or it could be because I am possibly blind to all of the NextFits faults 😉 ) but many people find HUGE issue with the fact that the harness (at least at this time) cannot be replaced easily and you will need to Chicco for instructions on how to remove and/or replace the harness
-the harness covers…again I actually like them, but many people HATE the harness covers on the NextFit.  They can also not be removed if you don't like them as they are required for use… and if you need to wash them it's a good 10+ minute process just to get them off and you need to call Chicco for instructions.  However, seats manufactured after Oct 1st, 2013 will have a new removable style of harness covers.  I personally am going to keep my old style as I like the European design of them and don't have any complaints about them personally
-Tightening the harness…Ok I admit this is the 1 thing I REALLY dislike about the NextFit.  The harness is REALLY hard to adjust even after it loosens up after use, it's still hard to tighten if you have it buckled up all the way.  In part this is because of the grippy material on the harness pads.  I have started NOT loosening the harness at all because it's just such a pain in the ass to get it back to being properly tight…and when I do have to readjust the harness I have found that it is the easiest to tighten it before you even buckle the crotch buckle.
#2 Clek Foonf
Pros:
-Reafaces until 50 lbs!  Which is the highest rearfacing weight limit currently available
-their super awesome crypton fabric is green guard certified and is stain resistant and anti-microbial.  YES the fabric is REALLY stain resistant.  Poopspolision?  No problem…it wipes right off.  Spilled some grape juice?  That's ok!  It will come right off too.  Cryton is really, really, REALLY awesome stuff.
-the seat is recyclable.  How awesome is that?  Once the Foonf (and actually any clek seat) has outlived it's usefulness as a carseat, you just ship it back to Clek and they disassemble the seat and it gets turned into something else.  Like the fabric for example gets turned into Pet Beds!  I think that is just so neat
-These seats are manufactured entirely in North America.  While yes, it is not all American made (a great deal of it is made in Canada) it is not made in China
-internal lockoffs which make for a rock solid seat belt install
-Anti-rebound car…one of the only convertibles that offers this feature which just like the infant seats, prevents over rotation of the seat in the event of an accident
-REACT technology…now I know I said this was about ERF seats, but I can't list the Foonf without mentioning the REACT technology because it's just sooooooooo rad.  The REACT is only for Forward facing on the Foonf….but basically it has its own little crumple zone located right in the seat.  It's a aluminum honeycomb design that is the SAME STUFF that is located in the bumpers of race cars.  When the seat is in an accident the Foonf literally moves with the inertia of the crash down into the built in crumple zone which slows down the body of the child (called ride down time) and reduces the crash forces that the child will experience.  The Foonf is the ONLY seat on the market with active force reduction technology like REACT
-1 word…Tokidoki.  Clek will soon be releasing their new covers made by Tokidoki which will be replacing their Paul Frank monkeys…and HOLY CRAP am I totally in love with the Tokidoki prints.  They are loud and might be a bit loud and obnoxious for some people, but I freaking big puffy heart love love love them!  In fact I am hoping for a Tokidoki purse for Christmas that will eventually match the Tokidoki Foonf and Oobr that will be in my car!
-3 across capabilities….puzzles well with many seats due to the narrowness of the base and the height at which it sits
-SUPER easy adjust harness.  Moves like butter.  No issues like the NextFit
Cons:
-Price $500 is a lot to swallow for some people
-heavy…because the seat is reinforced with steel and magnesium substructure Foonf is an extremely heavy seat.  Clek does offer a fantastic wheely carrying case for Foonf, but if you don't have the case you're probably not going to want to carry this thing through an airport
-lock-offs break…be careful when doing the internal lockoffs for rearfacing.  I snapped one of mine already and have had many other people ask me about broken lock-offs.  Do not fear though, the seat can be used with only 1 lock off and Clek has AMAZING customer service so it will be replaced promptly.
-the height of the seat….after using the Foonf regularly, this is my only real dislike about the seat.  It sits so high in the seat that I have a serious blindspot in my Sante Fe out of the passenger side.  It was also a little difficult to get SquishyBaby into the seat when I rented a Hyundai Sonata recently because of how high it sits and how the doors are on that car.  I don't know if it is like that in all sedans…but it was not the easiest of things to get him in the seat in that car.
#3 Graco Headwise/Size4Me/MySize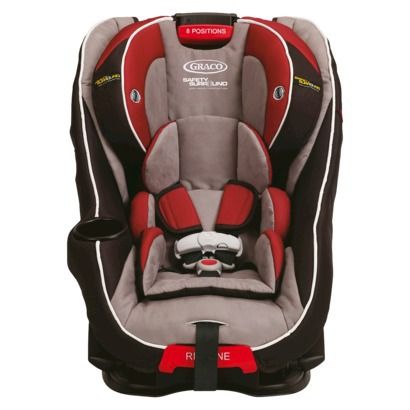 Pros:
-highest rearfacing height available….can I repeat that?  HIGHEST REARFACING HEIGHT LIMIT AVAILABLE
-will fit newborns so it's an excellent option for those wanting to forgo the infant seats
-great price point at $179-$200, you don't have to spend $300+ to get a good extended rearfacing seat
-not a ERF pro…but my 8 year old still fits harnessed in this seat.  So not only does it go REALLY tall rearfacing, but it also goes really tall forward facing as well
-does not take up a lot of space front to back.  It really only takes up slightly more room then the NextFit so it is a good option for smaller cars
-this is kinda of a random Pro but I traveled with this seat to Los Angeles and it actually fits in the airplane really well.  It didn't hang over the sides or protrude into the seat next it and it was really easy to install on the plane.  We had it forward facing, but I imagine it would fit just fine rearfacing on a plane as well (although the person in front of them probably wouldn't be able to recline).  It was also light enough that it wasn't to much of a pain the ass to carry it through the airport either.
-designated forward facing and reafacing latch belts…which are even different colors so you won't be getting them mixed up
-Easy peasy latch install and angle level indicator for proper angle positioning
Cons:
-only rearfaces until 40 lbs
-I do have a bit of trouble tightening the harness when it's installed.  Like the Nextfit I have taken to tightening it up before I buckle the crotch buckle up or pulling from the back of the seat while tightening at the same time.
-I find the chest clip a bit difficult to undo sometimes and I don't like how the crotch buckle comes together.  I kinda of have to push it forward to get it to click.  I don't know if that's the buckle design or what, but I don't really like it.
#4 Diono R120
If you know much about carseats you're probably asking yourself why I choose the r120 over the RXT?  I own 2 RXT's but after regular use and learning more I wish I would have gotten the R120 at the time I was purchasing.  Here is a quick run down of why I chose the R120 and then I'll get on with the pros and cons of this particular seat.  The R120 and the RXT are the same exact seat except the RXT has the headwings.  The headwings cannot be used with the 2 bottom slots and because of the headwings the seat is outgrown in harness height at the same time it is outgrown in booster mode.  Because the r120 does not have headwings it can actually be used LONGER in height because the headwings on the RXT prevent taller children from using the seat harnessed and in booster mode once their shoulder reach the bottom.  My RXT's are still rearfacing, but I have heard many people say that the belt guides on the headwings also don't allow for some seatbelts to retract properly if a child were to lean forward and then sit back again when in booster mode.  I have never tested this myself, so I cannot say with certainty that his happens…but I have heard it said that it does and so I mention it here.
Pros:
-Rearfaces to 45 lbs and 44 inches which for the average child would keep them rearfacing until close to 6
-SUPER narrow so it can easily fit 3 across in most every vehicle and puzzles well with other carseats.  I installed my 2 Radians outboard with a Maxi Cosi Pria in the middle all rearfacing in my Hyundai Sante Fe and they puzzled together beautifully.
-Has awesome back pack straps that can be purchased separately and folds completely flat for easy travel.  This might possibly be the only convertible that will fit through the xray machine at the airport.
-Very low profile sides.  For parents with arthritis, or who have trouble with getting their kids in and out, this seat makes that a breeze.  It also makes it really easy for littler kids to climb into the seat themselves.
-The added purchase of the angle adjuster can allow this seat to fit in even a lot of small cars.  When utilized, the angle adjuster gives you approx 4 extra inches front to back to allow for it to fit in cars with smaller back seat space
-Easy release latch connectors.  Diono makes the best latch release connector in my humble opinion.  Having the release button located where it is, and the push button action that's different then other premium latch connectors makes it a lot easier to release them.  At least I think so anyways.
-Diono allows rear-tethering which I LOVE LOVE LOVE.  In Sweden pretty much all carseats are rear-tethered or have a load bearing leg.  I think it's an awesome feature that reduces the amount of rotation the seat will experience in an accident.  Only a few manufactures allow for rear-tethering here in the states and Diono is one of them!
Cons:
-Heavy….this is a theme in this list I know, but like with some of the other seats Diono's are reinforced with steel and because of that, they are heavy seats.  The backpack straps make it easy to carry, but the seat is roughly 27ish lbs with the rearfacing foot so keep that in mind if you're a traveling family.
-Not a lot of cover choices, while the RXT has more covers options… the r120 has very few.  Your choices are pretty much limited to red and grey.
-Will not generally fit a newborn.  Despite the low starting weight limit, Diono's are generally not going to fit your averaged sized newborn so if you're wanting a convertible you can use from birth….this seat would not be a good choice.  If you're buying it for it's 3 across capabilities…I would consider buying the Maxi Cosi Prezi and then moving into a radian later down the road.  Chances are you'll probably need the angle adjuster anyways which can't be used until the child has complete head control and can sit up unassisted.
-Without the angle adjuster this seat takes a lot of front to back space.  I mean A LOT…in my mini vans captains chairs it touches the front seat and we are not tall people.  I cannot drive at all in my Sante Fe with a Diono installed on the drivers side because the front seat has to go up so far to accommodate it.
-The ratchet harness…this is a personal Con for me from regular usage and does not in any way affect the safety.  I absolutely HATE the ratchet harness.  It goes not "ratchet" tight enough on its own so my kids are in their safely and I end up having to reach behind…pull from the back, push the splitter plate down with my fingers and pull the tightening strap (which is not easy).  I've started just not loosening them at all ever, because it is just such a giant pain to get them back to being properly tight.
#5 Peg Perego Primo Viaggio SIP
Pros:
-Rearfaces until 45 lbs and roughly a 23 inch torso height
-Above average seat depth, so it gives kids loads of leg room
-The Peg is equipped with it's own built in crumple zone.  Located at the bottom of the seat is a block of EPP foam that will crush in the event of an accident…slowing down the child's inertia and allowing some of the force to be reduced on the child.
-The crotch strap has the ability to be shortened when its in it's inner most position in order to accommodate those little babies properly and not have the crotch buckle on that belly.
-With the addition of the infant insert the Peg will be able to fit a good variety of infants and is a good choice if you want to forgo the infant seat
-Rear-tethering allowed. Like Diono, Peg Perego allows for this seat to be tethered while rearfacing for anti-rebound control
-Separate latch straps for each side of the carseat.  This is a personal like for myself.  I so much prefer when seats have separate latch straps on either side of the carseat
-Fits in very small cars.  This seat is awesome for those of you with small cars looking for a convertible that will fit.  It fits in a wide range of vehicles and I've personally installed them in several 2 doors and they fit wonderfully.
Cons:
-Does not have the tallest rearfacing height limits.  Peg only allows rearfacing until the headrest is in the 7th position and the childs head is 1 inch from the top in that position.  While it wont accommodate those very tall children until 4…it is a good option for those petite and average little ones.  The Girl who is almost 6 (and very short and petite) is just barely to tall for the Peg rearfacing.
-No rearfacing indicator for the headrest.  Last year at ABC they had talked about maybe putting a line when the headrest was at the max rearfacing level…I haven't seen this on any seats yet and it needs to happen.  It's really annoying having to count each slot to make sure your in the right one and aren't above the 7th…and the user error with parents possibly counting wrong or whatever is just astronomically huge in my mind.
-Unforgiving rearfacing belt path for seatbelt installs.  The rearfacing belt path is really tight and has this drop out in the middle that can make it annoying to install with a seatbelt.
-No anti-reound bar….WHY PEG PEREGO WHYYYYY!!!!! Why do the Canadians get the anti-rebound bar and not us?  WHHHHHYYYY???????
Join me next week for my Top Pick Extended Harnessing Combination Seats!
If you missed my Top Picks: Infant Seats last week check it out: http://themommydialogues.com/squishys-top-picks-infant-seats/
Full disclosure:  This is my own PERSONAL list of favorite seats.  That doesn't mean that other seats aren't good, or safe…these are just *my* personal favorites.